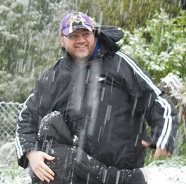 Pierre Moseley is a South African expat who moved to New Zealand in 2008, after living in Namibia for a few years. He works in the electronic security industry, but can't say too much about that.
After taking a few years to get used to the weather, the cold houses and missing family, he has adapted to life in the island country and is happy to call it home.
About Pierre
Q: Where are you originally from? 
A: South Africa
Q: Where are you living now? 
A: Hamilton, New Zealand
Q: When did you move here? 
A: October 2008
Q: Did you move here alone or with family? 
A: With a family
Q: Why did you move; what do you do? 
A: We were living in Namibia and returning to South Africa was not an option with young children. We wanted a stable environment where they could enjoy their childhoods and not fear for their safety. I work in electronic security with a strong IT knowledge base.
Living abroad
Q: What do you enjoy most about Hamilton? How would you rate the quality of life compared to your home country? 
A: It's a small place and life is very laid back. Best of all there are no traffic issues. Quality of life is brilliant as we live on a lifestyle block in the country which one just can't do in South Africa any more due to security issues.
Q: Any negatives? What do you miss most about home? 
A: Can't think of any. Only thing we miss is family still living in SA.
Q: What are the biggest adjustments you had to make when settling into expat life here? Did you experience any particular elements of culture shock?
A: Getting used to the work environment. It is very different to South Africa and there are definitely elements of discrimination towards foreigners in some companies. In my first job, I'd greet people as I entered the office and people would turn away as opposed to greeting me back. I could go the entire day without anyone saying a word to me. This was extremely difficult to adjust to.
Q: What's the cost of living compared to home? What is cheap or expensive in particular? 
A: New Zealand is very expensive. If one earns a mid-range salary it can be very difficult to make ends meet. If one earns a six-figure salary life can be very comfortable in NZ. Foodstuff tends to be quite expensive while electronics are fairly well-priced.
Q: How would you rate the public transport? What are the different options? Do you need to own a car?
A: Public transport in most areas is fantastic. Where available trains are really good as are buses and well-priced. If you live out rural, you definitely need a car. If living in the city there is ample public transport to get around with.
Q: How would you rate the healthcare in your city? Have you had any particularly good or bad experiences with regard to doctors and hospitals? Are there any hospitals you would recommend?
A: The health system is very good and unlike what we have in SA. I have unfortunately needed to make use of the local hospital services on a number of occasions in the last couple of years and have received excellent service. The Waikato hospital has a good reputation, and the staff is friendly and really good. Initially getting signed up with a doctor can be a bit of a process but once that's done then you're okay. Also, you need to be on at least a two-year working permit or have Permanent Residence to qualify for the free health system.
Q: What are the biggest safety issues facing expats living in New Zealand? Are there any areas expats should avoid?
A: Like anywhere in the world there are areas that one should avoid. Walking through the bottom end of the city late at night is not advisable. The likelihood of running into drunken louts is good and not recommended. There are the usual muggings and robberies of stores that take place, but they are nowhere near the scale of violence that one might expect to experience in South Africa.
Q: How do you rate the standard of housing in the city? What different options are available for expats?
A: Very high standard. Everything from rooms for students to apartments to houses is available and ranges anywhere from NZD 80 per week to NZD 700 per week. After the Christchurch earthquake, a lot of people moved to the North Island and rentals became a bit harder to find. This has been further compounded by rising house prices.
Q: Any areas or suburbs you'd recommend for expats to live in?
A: In Hamilton – Rototuna is quite popular. Further out if you're after living in a seaside village then Raglan would be the place to live.
Meeting people and making friends
Q: How tolerant are the locals of foreigners? Is there any obvious discrimination against particular groups of people?
A: The majority of locals are easy going accepting folk. There is an element of discrimination that I've experienced over here – mainly toward Asian people. Most of the people are really nice though.
Q: Was it easy meeting people and making friends? How did you go about meeting new people? 
A: It depends on the people. When moving into our first home in Wellington our neighbours befriended us which was really wonderful. We built up quite a base of friends in Wellington over a four-year period. Since moving to Hamilton it has been harder to make friends, and we have a much smaller group of friends – most of which we've made in our local church.
Q: Have you made friends with locals or do you mix mainly with other expats? What advice would you give to new expats looking to make friends? Any social or expat groups you can recommend?
A: We've had more local friends than expats. Churches and sports clubs are really good places to meet new people and strike up friendships.
About working in New Zealand
Q: Did you have a problem getting a visa or work permit? Did you tackle the visa process yourself or did you enlist the services of an immigration consultant?
A: Once I was offered a job, the visa was easy. Getting the job offer was the hard part as a lot of companies don't really want to get involved in the process. We initially used an agent in South Africa who happily took our money and as soon as we were in NZ we never heard from her again. We then used a local agent, and he assisted us with everything we needed. Sometimes doing the process yourself can be tricky. If you plan on using an agent, use one based in New Zealand.
Q: What's the economic climate like in the city? Do you have any tips for expats looking to find a job there? Which resources did you find most useful?
A: It's like everywhere – companies are looking to cut costs and save money. If you work in IT or you have a trade then you will find work here.
Q: How does the work culture differ from home? Do you have any tips for expats doing business in New Zealand?
A: It can be very different to what you might be used to. Expect to have to work harder than others because you're the foreigner. Expect to be paid less than others because you're the foreigner. Expect to be given the tasks that nobody else will do. Expect to take a step back in your career, but once you have local experience you will find the opportunities again.
Family and children
Q: Did your spouse or partner have problems adjusting to their new home? Do you think there are any specific challenges for a trailing spouse?
A: Yes, definitely. The weather in Wellington was miserable, and we never got used to it even after four years. The houses are cold and the bugs are plentiful. Expect to struggle to get used to life here for a few years. When you wake up one day and you think this is home, then the difficulties will go away. Immigrating to a new place is hard, and if you are not prepared for the long run and not prepared to suffer for what you want then save yourself a lot of strife and don't waste your money doing it.
Q: Did your children settle in easily? What were the biggest challenges for your children during the move?
A: Children are easy as they make friends and move on. Our children took a while to get over the family and pets we left behind, though.
Q: What are the schools like, any particular suggestions? 
A: Some are good and some not so good. Bullying is an issue in a lot of schools, especially if your children are foreigners, so keep a temperature check on them and make sure they're alright.
And finally…
Q: Is there any other advice you would like to offer new expat arrivals?
A: Respect that this country is not yours – you have no right to expect anything without earning it the hard way. Treat the people with respect and they will respect you. Be prepared to work hard. Be prepared to live a different life. People come here for the lifestyle and not to compete for the best car and house. If you want to fit in, then leave all that behind when you leave your home country.