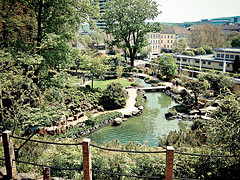 Katlin Gamache and her family moved from America to the small city of Kaiserslautern in the southwest of Germany some 18 months ago. She says that even though it took her a while to settle into her new home, Germany is a fantastic country for expats to relocate to - and that every village, town and city has something special to offer new arrivals.
About Katlin
Q: Where are you originally from? 
A: USA
Q: Where are you living now? 
A: Kaiserslautern, Germany
Q: When did you move here? 
A: Christmas 2013
Q: Did you move here alone or with a spouse/family? 
A: Family
Q: Why did you move; what do you do? 
A: My husband's job transferred him here.
Living in Germany
Q: What do you enjoy most about Kaiserslautern? How would you rate the quality of life in Germany compared to the USA? 
A: I enjoy several things about Kaiserslautern area. The parks are quite lovely, the farmers' markets are very nice, lots of great walking, travel to other regions is very easy, and there are plenty of easy escapes from the city. The people have been an adjustment, but once I got past the culture shock, I have found them to be friendly for the most part.
Q: Any negatives? What do you miss most about home?
A: The food, while tasty, becomes a bit monotonous. Not a whole lot of variety, shall we say? And getting anything done here, such as buying a cellphone or paying bills, is the most roundabout and frustrating experience of my life. 
Q: What are the biggest adjustments you had to make when settling into expat life in Germany? Did you experience any particular elements of culture shock?
A: I had a few. Going to the meat counter at the grocery store was an eye-opening experience. My husband had a hard time with the restaurant culture at first, but has come to enjoy the 2+ hour "quick" meal. My biggest challenge was realising that my three years of German language studies were essentially useless.  
Q: What's the cost of living in Germany compared to the USA? 
A: I'm originally from a semi-rural area in the Pacific Northwest, but I have lived all over the country. Prices seem to be kind of similar to most of the US, in several regards. Groceries are pretty close, if not a little cheaper here, as is rent. Utilities are a bit higher, but that depends on where you compare it too. Gas is atrocious! I cannot believe how much fuel costs here.  
Q: How would you rate the public transport? Do you need to own a car?
A: I love public transport in Germany. It is the only way we travel for long distances. However, we live in a small village about 20 minutes from town. The bus does come through, but not at convenient times, and with multiple transfers that route takes well over two hours. So, having a car is vital for us. The train station is remarkably easy to navigate, and the employees have been super helpful.
Q: How would you rate the healthcare in Germany?
A: I, personally, have not had any experiences with German healthcare yet. However, I did take a German friend with me when I had to go to the American emergency room here. She is an orthopaedic nurse at the German hospital, and she was appalled at the service I received. And I thought it had been pretty good!
Q: What are the biggest safety issues facing expats living in Kaiserslautern?
A: There are several American military bases nearby, so there are demonstrations and the like fairly regularly. The funny thing is, none of the protesters are locals. I have felt very safe here so far. I have not come across areas to be avoided yet. There a few businesses that have been blacklisted by the military for suspected or confirmed racism, drug or human trafficking, or price gouging. A Google search for KMC Blacklist will produce that list.
Q: How do you rate the standard of housing in Kaiserslautern?
A: The housing standard here generally falls into two categories. Either brand new, or a little older and pretty well maintained. Of course, there are exceptions, but I have found them to be few and far between. As far as options, take your pick. There are tiny little flats in town, and large houses in the country, all up for rent. Many of the older buildings, even out in our area, have been converted into apartments.
Q: Any areas/suburbs you'd recommend to expats?
A: The neighbourhood around Stadtpark, along Pirmasenerstrasse, is lovely and has almost everything in walking distance. In addition, you can walk for 15 minutes, through the pedestrian zones, and be in the centre square.
Meeting people and making friends
Q: How tolerant are the locals of foreigners? Is there any obvious discrimination?
A: This is a tough question. I have found Germans to be very warm, hardworking and helpful. When asked, they will come running to help you with anything! But, they truly believe that they are better than everyone else. Any other country or race is, at best, one step above the town idiot, but still a complete charity case who cannot do anything as well as a German can. That said, they don't have a very rosy view of themselves either, regardless of how proud they are to be German. Confusing, I know. Kind of a We-Are-The-Top-Of-The-Cesspool mentality.
Case in point: I live in a lower flat and try to shop once or twice a week. My five year old tries to help, but most of the time, she is asleep when we get home. After I carry her downstairs to put her down for a nap, I unload my groceries. If I try to carry  "too many" bags in one trip, my neighbour across the street comes out and yells at me. Then, he picks up an armful of bags, and helps me unload, all the while, muttering about how if he wasn't there to help, I would have broken my neck.
Q: Was it easy meeting people and making friends? 
A: More or less. With my less than total mastery of the language, I'm looked upon as kind of a charity case. They keep me around to laugh at.
Q: Have you made friends with locals or do you mix mainly with other expats?
A: I make it a point to be friendly with locals, and in our village, that isn't difficult. There are lots of American families in the area. Facebook is an incredible tool for finding other expats here.
About working in Germany
Q: Did you have a problem getting a visa or work permit?
A: I have not dealt with this issue.
Q: What's the economic climate like in the city? 
A: Everything is pretty stable here. Beyond that, I am not a great resource.
Q: How does the work culture differ from home? 
A: Germans have an interesting work culture. They are very strict about who can be open, when, and for how long. Rarely is anything other than a restaurant open on Sunday, and almost everything is shut down by 6pm.
Family and children
Q: Do you think there are any specific challenges for a trailing spouse?
A: There definitely can be. We were so blessed: our upstairs neighbour lived in the US for a while, and she has been a true godsend. She taught us why and how to put salt in the dishwasher, how to open the dryer (that was an interesting night), and fought many of the battles for me that could have sent me running home. She has been our shield against people who sought to take advantage of us because we were not German, introduced us to German culture and food, and explained the festivals and funny quirks about her people. We would not be half as happy as we are, had she not come into our lives.
Q: What were the biggest challenges for your children during the move?
A: For my daughter, it was losing her best friend. She was three at the time of our move, and still talks about him every day. Luckily, she will play with anyone, anywhere, any time, and is not afraid to just jump in - even if she doesn't speak the language.
Q: What are the schools like, any particular suggestions?
A: We have not come to that portion of the programme yet. That will happen in the fall.
And finally…
Q: Is there any other advice you would like to offer new expat arrivals?
A: Get out there and do something! Germany is fantastic. Every single place, from the tiniest village to the biggest city, has something that they want to show the world. Go find it! There is a group called AWAG, and it is an expat women's group, who has put together a book called Never A Dull Moment. BUY IT! Keep one in your car and one on your desk. It has been a wonderful resource for us.
~ interviewed in August 2015