Marisa Tishner, an American, relocated to Germany in 2014 with her pug. She provides insight on the best place to live, her adjustment to the culture and how it compares to the States. Follow her on Twitter @mltishner for witty posts and commentary on German life. 
About Marisa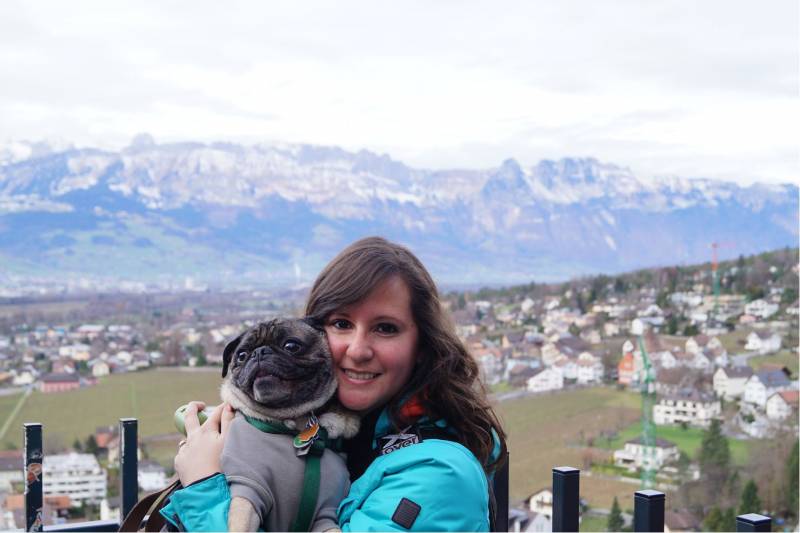 Q: Where are you originally from? 
A: Indianapolis, Indiana
Q: Where are you living now? 
A:  Überlingen, Germany
Q: When did you move to Germany? 
A:  June 2014
Q: Did you move to Germany alone or with a spouse/family? 
A:  I moved here with my pug, Abner
Q: Why did you move; what do you do? 
A:  I had met a German gentleman while I was working for a German company in Chicago.  We had a long distance relationship for over a year.  I had my company transfer me to their headquarters in Ravensburg, Germany.
Living abroad
Q: What do you enjoy most about Germany? How would you rate the quality of life compared to that in America? 
A:  Everything moves at a much, much slower pace than in the States. It took me a while to get used to not being able to shop whenever I wanted. Sundays are when everything is closed and you have to find other ways of entertaining yourself – like going out for a nice walk in nature or have a coffee. 
Q: Any negatives? What do you miss most about home? 
A: The work environment in the States is more relaxed than in Germany. But overall there are more similarities than differences. The only thing I really miss from home is my family.
Q: What are the biggest adjustments you had to make when settling into expat life here? Did you experience any particular elements of culture shock?
A: Germans are very honest. Most of the time I don't have a problem with it, but there are people who are very tactless about telling the truth. Where I come from in the States, people are polite to a fault and sometimes avoid the truth as a result.
Q: What's the cost of living compared to home? What is cheap or expensive in particular? 
A: That definitely depends on where you live.  People say Europe is more expensive than the states, but I can tell you that I pay considerably less for my bigger apartment here in Germany than I did for my smaller one in Chicago.
Q: How would you rate the public transport? What are the different options? Do you need to own a car?
A: Where I live, it is better to own a car.  If you lived in a bigger city, then public transport is preferable. However, I live in German wine country and about a 45 minute drive from work.  I could take public transport but it would take longer. So while it is feasible, it's just not very convenient.  
Q: How would you rate the healthcare in Germany? Have you had any particularly good/bad experiences with regards to doctors and hospitals? Are there any hospitals you would recommend?
A: Overall, Germany has a better healthcare system than the US. I pay a portion out of my pay check every month and it covers my general practitioner, dentist, and specialists. There have been a few occasions where I had to pay extra but they haven't been as outrageously expensive as back in the States. As for hospitals, I have yet to be in one *knock on wood* but I do know the children's hospital in Ravensburg is certainly one of the best.
Q: What are the biggest safety issues facing expats living in Germany? Are there any areas expats should avoid?
A: I have found Germany to similar in safety as in the States. There may be certain areas of certain cities where you need to be extra careful but out in the county, everyone knows everyone so you feel very safe.
Q: How do you rate the standard of housing in Germany? What different options are available for expats?
A: The housing is relatively good. I would definitely compare it to my living in Chicago.  You can live in newer or older houses/apartments. Though apartments in Germany come with three different options – furnished, not furnished, partially built. A co-worker of mine rents her apartment (in a newer building) and the owners had her build her own kitchen. When she leaves she can either take the kitchen with her or sell it to the next tenant.
Q: Any areas/suburbs you'd recommend for expats to live in?
A: I recommend living in Southern Germany. Period. The weather is rather mild, there's Lake Constance, and you are close to Austria and Switzerland. The people here are friendly and the overall atmosphere is relaxing.
Meeting people and making friends
Q: How tolerant are the locals of foreigners? Is there any obvious discrimination against particular religions or women etc.?
A: Overall Germans (especially the younger generations) are very tolerant of all cultures and walks of life. I have noticed that there is still some friction between what was once East and West Germany but I have hardly seen any towards foreigners. In fact, Germany has seen 800,000 refugees flooding their borders this year alone. They have welcomed these people with open arms and have only been asking other EU countries to help simply because there are more people who need sanctuary and Germany can't take care of everyone.
Q: Was it easy meeting people and making friends? How did you go about meeting new people? 
A: It was very easy. I have found the people to be very friendly. However, I met most of me new friends through work or at the festivals in my fiancé's hometown.
Q: Have you made friends with locals or do you mix mainly with other expats? What advice would you give to new expats looking to make friends? Any social/expat groups you can recommend?
A: The best way to make new friends in Germany is to join the local sports club. Almost every town and village has one and it gets everyone in the community involved. As for meeting other expats – I have met them through their blogs or through websites like Internations.org
About working here
Q: Did you have a problem getting a visa or work permit? Did you tackle the visa process yourself or did you enlist the services of an immigration consultant?
A: I did not have a problem with a visa. My company's headquarters is in Germany they took care of the paperwork as part of the transfer process of getting me from Chicago to Germany.
Q: What's the economic climate like in the city? Do you have any tips for expats looking to find a job there? Which resources did you find most useful?
A: Ravensburg (like most of Germany) has a very very low unemployment rate.  But there are still plenty of jobs for expats with degrees in the science (and engineering, I believe).  As a scientist, I know that I could find employment because it is a specialized job and there are plenty of positions for it. This also makes it easier for me to get a visa because Germany wants people with these degrees.
Q: How does the work culture differ from home? Do you have any tips for expats doing business in Germany?
A: The work environment can be a lot more stressful than in the US.  Americans take a lot of breaks and (sometimes discreetly) use their phones often on the job to check Facebook, Reddit, or to chat with friends. This is not allowed in Germany. They say Germans work harder than Americans and while this may be true with some Germans – there are some Germans who suffer from a phenomenon called "burn out" which means exactly as it sounds. They work themselves so hard that they make themselves sick and have to take an extended leave of absence (or quit their job altogether). We don't have this in the US.
My advice? The team I work for is a great group.  We are also friends but this didn't happen immediately with some teammates. You have to prove yourself with your co-workers by how well you work. Once you have proven to be an effective member of the team and have earned the trust of your co-workers, it makes life so much easier.  It took me six months to really find my niche in the group.
Family and children
Q: Did your spouse or partner have problems adjusting to their new home? Do you think there are any specific challenges for a trailing spouse?
A: My soon-to-be spouse is the reason why I came to Germany. The only challenges we faced were the growing pains of moving in together and coming from different cultures.
Q: Did your children settle in easily? What were the biggest challenges for your children during the move?
A: I don't have human children, but I do have a furbaby (my pug, Abner). The initial flight from the States to Germany was rather traumatic for him but once we landed and he was flooded with new smells, he was very excited. Germany is also much more dog friendly than the States, so I was able to take him almost everywhere with me.  He has liked that a lot, too.
And finally…
Q: Is there any other advice you would like to offer new expat arrivals?
A: Don't be afraid to put yourself out there and try. Most Germans are very friendly towards Americans and enjoy learning about you, where you are from, do you like it in Germany, etc.  While a lot of them also speak English, they do really appreciate when you try to speak their language.  Even when there is a huge language gap, the Germans I have come into contact with are always more than willing to help me understand and make me feel welcome.

~Interviewed September 2015