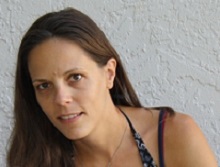 Lisa Harvey is an American expat who has lived with her family in Hong Kong since 2011. Originally a trailing spouse who chose stepping on Lego over climbing the corporate ladder, she is an editor at TrifectaWritingChallenge.com and has started her own business.
Lisa has a Master's degree in social work and has lived as far afield as Venezuela, Kenya, Abu Dhabi and Massachusetts. We're lucky enough for her to share her experiences of witch hunts for housebreakers, dodging flying soccer balls and how not to bump into people in the streets of Hong Kong.
About Lisa
Q: Where are you originally from?
A: I was born in Massachusetts and grew up in south Florida.
Q: Where do you live now?
A: Sai Kung, Hong Kong
Q: When did you move?
A: July of 2011
Q: Did you move to Hong Kong alone or with family?
A: I moved here with my husband, David, and our two kids, Estelah (who was two at the time) and Dylan (who was four).
Q: Why did you move?
A: My husband is an English teacher and he works at an international school here in Hong Kong.
Living in Hong Kong
Q: What do you enjoy most about Sai Kung? How would you rate the quality of life in Hong Kong compared to your home country?
A: I adore my host city. It's been two and a half years, and the love affair has yet to wear off. My town is safe. The streets are mostly closed to street traffic, and between the scooters, skateboards and flying soccer balls, it kind of feels like kids run the place. We enjoy a sense of safety here that we miss when we go back to the States.
Q: Any negatives? What do you miss most about the USA?
A: Other than family and friends? Nothing really. Hong Kong pretty much has everything. Except Target. Sometimes I miss Target.
Q: What are the biggest adjustments you had to make when settling into expat life in Hong Kong? Did you experience any particular elements of culture shock?
A: Hong Kong is infamous for its high population density. The sheer number of people takes some getting used to. You quickly develop tactics for not running into people. (Tip: don't make eye contact. Once you do, it's guaranteed collision.)
Q: What's the cost of living in Hong Kong compared to home? What is cheap or expensive in particular?
A: It's expensive, of course. But, in our case at least, the pay is commensurate, so we're pretty insulated from it. As with most places, if you're determined to eat the same foods you ate back home you're probably going to pay dearly for it. It's been fun trying to learn more Asian recipes.
Q: How would you rate the public transport in Hong Kong? Do you need to own a car?
A: This is another huge perk to living in Hong Kong. We don't own a car, and we have no desire to. Public transport is efficient, clean and cheap. Your options are: mini buses, double decker buses, an extensive subway system and taxis. When we vacation back in the States, we really miss the convenience of public transport.
Q: How would you rate the healthcare in Hong Kong? Have you had any particularly memorable experiences with regards to doctors and hospitals?
 A: We have, unfortunately, had more than a few experiences with healthcare in Hong Kong. My son has had two major accidents since we've arrived. In both cases, we went to the closest public hospital and were very impressed with how we were treated. Many doctors are trained in the UK or USA, and the treatments used are generally the same as what you'd expect back home. Being an American, I'm blown away by the concept of affordable health care. In one case, my son spent four days in hospital, had numerous x-rays, underwent surgery with general anaesthesia and was fitted with a cast. We paid the equivalent of 12 USD for the entire stay. That said, it can be a challenge to find a general practitioner for regular use. Many doctors I've seen are quick to prescribe a veritable pharmacy of drugs, and over-treatment seems the norm.
Q: What are the biggest safety issues facing expats living in Hong Kong? 
A: For the regular expat in Hong Kong, there really aren't any safety issues to concern yourself with. Crime, on the small scale, is not common. Every few months here, there are reports of break-ins. The community kind of treats these little crime waves like a witch hunt until the perpetrators are caught. I can't overstate the difference between this experience and those we've had back in the States.
Q: How do you rate the standard of housing in Hong Kong? What different options are available for expats?
A: Small. I rate it small. My family of four (plus two obnoxious cats) lives in 700 square feet. When we first arrived, our space seemed to be about a quarter of what we needed. We were always bumping into each other, and I found myself suddenly taking an interest in jogging, just to get some space. It took two years to adjust, but it's starting to feel almost spacious. Almost. I've stopped jogging anyway.
Q: Any areas you'd recommend for expats to live in?
A: There are a ton of expats in Hong Kong. You can't go too far without finding them, so it's really up to your personal preference. I've overheard lots of expats talk about some areas being "too Chinese-y" which is amusing to me As far as I can tell, if you don't want to encounter Chinese people, you probably shouldn't move to China. Sai Kung is a fantastic place for expats.
Meeting people and making friends in Hong Kong
Q: How tolerant are the locals of foreigners? Is there any obvious discrimination against particular groups of people?
A: I can't speak for anyone but myself, but I've been so impressed with (and thankful for) the welcoming attitude the locals have had towards me and my family. When we first moved here, my daughter had very long, curly, shockingly blonde hair. We couldn't take her anywhere without people taking her picture and patting her on the head. Locals give my children candy regularly and traditional lai see red pockets during Chinese New Year. We get lots of smiles. In 2 ½ years, I have yet to have a negative experience with a local person.
Q: Was it easy meeting people and making friends in Hong Kong? 
A: I've found it very easy to make expat friends. When you have expat kids, you can't help but make friends with other expat families. Just stalk the parks. I have, however, had trouble making solid friendships with locals.
Q: Have you made friends with locals or do you mix mainly with other expats? What advice would you give to new expats on making friends in Hong Kong? 
A: We mix mainly with other expats. It's one thing about living internationally that I really didn't anticipate, and it saddens me a bit. I feel like I'm cheating myself out of a potentially great experience—that of true friendships across the international line. It's tricky though. I don't speak Cantonese, for one. I'm hoping that if we stay here long enough, we can develop real friendships with some local families.
It's easy to make expat friends, as I've said. There are a ton of Facebook groups whose sole purpose is to provide support for newcomers to Hong Kong.
Working in Hong Kong
Q: Did you have a problem getting a visa or work permit?
 A: My husband's employer does this for us.
Q: What's the economic climate like? Do you have any tips for expats looking to find a job in Hong Kong? 
A: Hong Kong has a reputation for being the city where you can do anything. Many people come here solely to set up a business that would be too risky back home. Also, depending on your field, an expat's familiarity with English may be a big perk. I have interviewed for two jobs here in Hong Kong and was offered positions both times. I decided to turn those offers down in favour of starting my own business. I have no experience with setting up businesses, but so far, so good.
Q: How does the work culture differ from home? Do you have any tips for expats doing business in Hong Kong?
A: I've heard lots of rumour that the work ethic is much different here, but I can't really speak to that. The past 2 ½ years I've been stepping on Lego and cutting the crusts off sandwiches. Parenting is parenting, no matter where in the world you are.
Family and children in Hong Kong
Q: Did your spouse or partner have problems adjusting to their new home? Did you face any specific challenges?
A: My husband misses his family, and he misses college football. But we've been abroad for nearly ten years now, so the days of adjusting are pretty well behind us. I am the trailing spouse in our relationship. I think the biggest issue I've had, which is not specific to Hong Kong, is the challenge of having my identity tied up with my husband's career. Though I'm happy I did it, it was never a goal of mine to stay home and raise children. At times it feels stifling knowing that everything that we have here and do here hinges upon my husband's career. Now that I'm building my own business, I find that dynamic changing a bit, and I couldn't be happier about that.
Q: Did your children settle in easily? What were the biggest challenges for your children during the move?
A: By the time she was 2, my daughter had lived in three different countries. By the time he was four, my son had lived in four different countries. They were too little to feel most of the challenges. I'm sure that the stress that we encountered with so many moves affected them, but they seem to be happy, well-adjusted tykes. They're learning how to read, write, and speak Mandarin, and they have these weird little English accents. My daughter's biggest issue is that Cheerios are not affordable in Hong Kong – 10 USD a box. They're a treat. An unsweetened, cardboard-esque treat.
Q: What are the schools in Hong Kong like, any particular suggestions?
A: As part of my husband's employment package, my kids get free tuition at my husband's school. The school is very good. It's more 'local' than most of the international schools in the area. I think the ratio is 80 percent local children, 20 percent expat.

My kids are, interestingly, developing some second language issues with English, even though it is their first language. But they're also developing friendships with local children, so we call it even. The international schools here are very difficult to get into and very expensive. Watching a four year old interview for a spot in kindergarten is a special experience. I'm thankful that the school has to take my kids.
And finally…
Q: Is there any other advice you would like to offer new expat arrivals?
A: If this is your first post overseas, be patient with yourself and with your host culture. Take time to acknowledge the differences between this and home, but try not to constantly judge them against each other. Home is what you make of it. Life is what you make of it. I spent a few years of my life wishing I were anywhere else in the world than where I was, and those years just feel like a waste to me now. No place is perfect, but every place has its perks. Find them.
If you've been an expat before, you know the drill. In that case, I'll just tell you to try the clams at the Temple Street Night Market. They're amazing.
► Interviewed December 2013