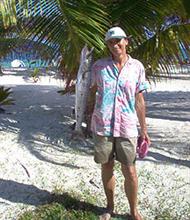 Marcia lives with her husband Kim 20km north of Mexico's Mahahual, a cruise ship town. They own a small beachfront inn called Mayan Beach Garden. Marcia authors a newsletter for people in the area and runs the hotel while Kim builds high-quality homes – he must be doing something right, because after Hurricane Dean went through the area, many homes were destroyed, but none of his homes had even a crack in the foundations. Marcia loves environmental causes and cultural events in the town – and actively helps with with both.  
Read more about expat life here in the Expat Arrivals guide to Mexico or read more expat experiences in Mexico.
About Marcia
Q: Where are you originally from?
A: Seattle, Washington area – United States
Q: Where are you living now?
A: Mahahual, Quintana Roo, Mexico
Q: How long you have you lived in Mexico?
A: Eight years
Q: Why did you move to Mexico; what do you do?
A: My husband built a hotel and we now live in the hotel and run it.
About Mahahual
Q: What do you enjoy most about Mahahual, how's the quality of life?
A: It is quiet, beautiful and on the beach!  Plus everyone here is struggling, so we are all the same. There are no rich people that run things. So everyone helps each other.
Q: Any negatives? What do you miss most about home?
A: Cruise ships that arrive in the daytime creating an atmosphere that is cruise ship related. The town is dead at night. I miss my family.
Q: Is the city safe?
A: Yes.
Q: Describe an ideal way to spend a weekend in Mahahual?
A: Ha!  Not much going on in the evening, but ceviche on the beach is pretty sweet in the day, maybe followed by a massage on the beach.  
About living in Mexico
Q: Which are the best places/suburbs to live in Mahahual as an expat?
A: All pretty much the same at this point – we all live north and south of Mahahual along the beach
Q: How do you rate the standard of accommodation?
A: Probably less than the quality in the US. We are mostly off the grid with independent power systems and we must collect rainwater off the roofs. It is somewhat empowering to be independent and being self-sufficient feels good!  We personally are solar powered with generator backup.
Q: What's the cost of living compared to home? What is cheap or expensive in particular?
A: It is less expensive, but living on the beach comes with some expenses you might not count on. Electronics and metal items rust, shortening their life. There is a lot of upkeep.  
Q: What are the locals like; do you mix mainly with other expats?
A: I work for a living, so I mix more with locals than with expats. Most of them are retired.
Q: Was it easy meeting people and making friends in Mexico?
A: For us, yes, because we have a hotel/restaurant. But I think it is easy for anyone here because it is small and easy to get to know everyone.
About working in Mexico
Q: Did you have a problem getting a work visa/permit?
A: No.
Q: What's the economic climate like in the city, is there plenty of work?
A: During high season yes, during low season all the expats leave – opening caretaker positions for vacant homes.
Q: How does the work culture differ from home?
A: Very much – Mexico is the land of Mañana.  
Family and children
Q: Did your children settle in easily?
A: Our children stayed in the US.
Q: What are the schools like, any particular suggestions?
A: Not great.  Most people send their children to a larger city to go to school.
Q: How would you rate the healthcare?
A: Not great – most people have to travel two hours to get good care. Dental is good – but only available one day a week. There is a clinic that is open until about 7:30 at night. You have to run the doctor down at his house for after hours. There is an ambulance.  
And finally…
Q: Is there any other advice you like to offer new expat arrivals?
A: Yes...
1)  Just because things are different than home doesn't make it bad – just different.
2)  If two people give you advice – don't go with the one that sounds like the answer you want to hear – Mexicans in this area always tell you what you want to hear.  Not sure how they always know that. . . .
3) LEARN PATIENCE: Assume that Mañana just means "not today"
4) Because we are in an out of the way area, we can't assume there are no laws and we can do what we want. This is not the Wild West.  
5) Don't assume that because you see locals doing something that it is legal. This is especially true of building codes.  
6)  If you are from the US and are purchasing property of any kind, find a good Mexican accountant and an accountant on the US side that knows how to properly fill out form 5471. Find out what foreign reporting laws apply if you are from another country.
7) Enjoy Mexican culture – there is a reason you came to Mexico and it wasn't just the beach (I hope!)
8) Volunteer – it is the quickest way to get to know your Mexican neighbours and some Spanish.
9) Take some Spanish lessons before you come. Don't assume you will learn it once you get here. If you only talk to Expats, you won't learn much.  
10) Don't be shocked by the limited varieties in a mini-super. Learn to enjoy the foods available in a small town. If there is only one variety – buy it and learn to cook with it. You will spend a lot of money running to Chetumal (two hours away).
11) Mexicans are offended by angry Gringos. Don't get angry when things don't go the way you remember them in your own country. Don't tell them what to do and don't expect them to remember your way just because you tell it to them. Love and kindness go a long way!
~ Interviewed September 2011
Are you an expat living in Mexico? We'd love to hear your story. Open the questionnaire here, copy into an email and send it back to info@expatarrivals.com