Wanting to escape a high-stress job and in search of a bit of adventure, Marcia and Judd are American expats who moved to Mexico's resort town of Puerto Vallarta. Thanks to the fantastic climate, beautiful surroundings and cheaper cost of living, they have carved out a fantastic life in Mexico and love to share their experiences with others.
About Marcia and Judd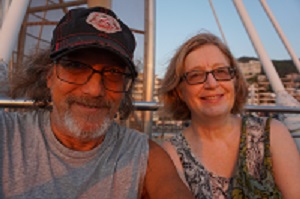 Q: Where are you originally from?
A: Minneapolis, Minnesota.
Q: Where are you living now, and when did you move there?
A: We moved to Puerto Vallarta, Jalosco, Mexico, in 2015.
Q: Did you move to Mexico alone or with a spouse/family?
A: Just Judd and me.
Q: Why did you move to Mexico; what do you do?
A: We moved to escape a high-stress job and for adventure.
Living in Puerto Vallarta
Q: What do you enjoy most about Puerto Vallarta? How would you rate the quality of life compared to Minneapolis?
A: The weather in the winter and the beautiful scenery. My quality of life overall has improved. I am not a morning person and can sleep in as late as I want. Judd does not work at all and spends his days sunning by the pool, writing poetry, or drinking with his buddies at his favourite bar.
Q: Any negatives? What do you miss most about home?
A: When we first moved here we lived in a very open casa. I developed health problems due to the insects. Plus I did not like the constant lizards etc. In April we moved into a screened environment and things are much improved. Plus we had AC in the summer. Judd misses American TV and the Internet is not as reliable as in the US.
Q: What are the biggest adjustments you had to make when settling into expat life in Mexico? Did you experience any particular elements of culture shock?
A: We had vacationed here a lot, so no real culture shock.
Q: What's the cost of living compared to home? What is cheap or expensive in particular?
A: Just about everything here is about half of what we would pay in the US. Our utility bill is way cheaper. The average for phone, cable, electric and Internet runs about $80 whereas in the US it is more like $250.
Q: How would you rate the public transport in Puerto Vallarta? What are the different options? Do you need to own a car?
A: We don't need a car. Everything is walkable, but we sometimes take a cab. A cab ride somewhere in town is usually the equivalent of $2 to $3, a ride to the grocery store or Marina is $6 or $7.
Q: How would you rate the healthcare in Puerto Vallarta? Have you had any particularly good/bad experiences with regards to doctors and hospitals? Are there any hospitals you would recommend?
A: I would say pretty good. I have had to see a doctor several times for my HSP allergic purpura. It was cheap, about $30 for a visit and the same for medicine. I used CMQ on Basillio Badilio. I also had my teeth cleaned at Just Smile for $25. Judd had his ears cleaned and was not particularly pleased. He thinks it added to his hearing loss, but I think he was losing his hearing anyway.
Q: What are the biggest safety issues facing expats living in Puerto Vallarta? Are there any areas expats should avoid?
A: Especially in Zona Romantica, you need to be very careful walking. The cobblestones and other surfaces are uneven and can be dangerous if you are not watching. Wear sensible shoes and invest in a walking stick if necessary. I wouldn't suggest roaming alone too much after 10pm, but I wouldn't suggest that anywhere. And, of course, don't flash your cash and keep your bling at home.
Q: How do you rate the standard of housing in Puerto Vallarta? What different options are available for expats?
A: Tons!  You can go modern or Mexican and spend anywhere from $400 to $3,000 a month. And there are condos going up all the time.
Q: Any areas/suburbs you'd recommend for expats to live in Puerto Vallarta?
A: We love the Romantic Zone (also known as Old Town). The Marina is also nice. It is more walkable and close to the airport, hospitals, and grocery and department shopping. If you want something a little more authentic you may want to try Cinco de Diciembre.
Meeting people and making friends in Puerto Vallarta
Q: How tolerant are the locals of foreigners? Is there any obvious discrimination against particular religions or women etc.?
A: The Mexican people are great. If you treat them with respect they are friendly and helpful. They appreciate it when you try to speak Spanish. There has been a little pushback with the new administration, but we make sure to tell them we did not vote for he who must not be named.
Q: Was it easy meeting people and making friends in Puerto Vallarta? How did you go about meeting new people?
A: Very easy. There are expat meetings and all kinds of clubs and organisations and people are friendly everywhere.
Q: Have you made friends with locals or do you mix mainly with other expats? What advice would you give to new expats looking to make friends? Any social/expat groups you can recommend?
A: Both really, but mostly expats. Expats in Vallarta, Democrats Abroad, Vallarta Garden Club etc.
Q: Did your spouse or partner have problems adjusting to their new home? Do you think there are any specific challenges for a trailing spouse?
A: Judd loves the winter weather here, but misses American media. He also speaks almost no Spanish, so he relies on me to communicate to the cleaning lady and shop owners etc. 
Working in Puerto Vallarta
Q: Did you have a problem getting a visa or work permit for Mexico? Did you tackle the visa process yourself or did you enlist the services of an immigration consultant?
A: I have just been doing freelance writing. I will start collecting SS next month early as I just turned 62.  Unfortunately, because of the SS law, this means we will need to move back to the US. and just spend time in the winter here for the next four years until I reach 66 or full retirement age. I will continue writing and also do part-time fundraising, and then we'll see.
Q: How does the work culture differ from home? Do you have any tips for expats doing business in Mexico?
A: I think working here is somewhat complicated. I know if you are working for an American company they need to have a physical presence somewhere in Mexico. I know expats who have businesses here and there is a lot of red tape. Of course, they want to keep most jobs for the locals. I think it is best to freelance it you work at all.
And finally…
Q: Is there any other advice you would like to offer new expat arrivals to Mexico?
A: Tons. I am turning our blog into a book and adding some supplements with direct advice. It should be available on Amazon sometime in April. You can find out more on my Amazon Author page and you can also find me on Facebook.
~Interviewed March 2017