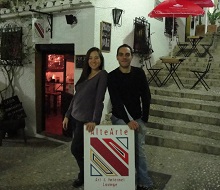 Sara Wilson is an American expat living in Altea, a picturesque town on the Costa Blanca. After leaving New York City in 2009, her and her Spanish husband have been enjoying the quiet life, temperate weather and natural beauty along the Spanish Coast. She currently runs Alte Arte, a mojito and art lounge, with her husband. Learn more about her adventures at www.sarawilson.wordpress.com
About Sara
Q: Where are you originally from?
A:  California
Q: Where are you living now?  
A:  Altea, Spain
Q: When did you move here?  
A:  November 2009
Q: Did you move here alone or with a spouse/family?  
A:  With my husband
Q: Why did you move; what do you do?  
A:  My husband and I were living in NYC. In 2009, the economy took a downturn, and we both lost our jobs within one week of each other. At the same exact time, my father-in-law was starting a restaurant in Torrevieja, Spain. My husband is a trained chef and the timing was too uncanny to ignore so, with 22 boxes and our cat in tow, we decided to move to Spain to help out. We stayed in Torrevieja for about four months before we set out to find our own business. On a whim, we visited Altea, fell head-over-heels in love with it and, since February 2010, we are the owners of a mojito and art lounge in Altea's Old Town.
Living abroad
Q: What do you enjoy most about your host city? How would you rate the quality of life compared to your home country?
A:  The views are spectacular. Surrounded by mountains and sea, no matter which way you turn, the scenery is breathtaking. Also, life is simpler and quieter here – not so much noise created by propaganda and advertising. The quality of life is much higher than in California. Here, you can walk everywhere and don't need to be reliant on transportation. It's quite the opposite in Southern California. Here, people don't judge you by your house or your car. And the cost of housing is much cheaper. 
Q: Any negatives? What do you miss most about home? 
A: Being a vegetarian, I miss the variety of food in the US. Both in California and New York City, where we last lived, you could find every kind of cuisine and, almost always, there's a vegetarian option. Here, Spaniards still don't quite understand the concept of vegetarianism. 
Q: What are the biggest adjustments you had to make when settling into expat life here? Did you experience any particular elements of culture shock?
A: Coming from NYC - a city that never sleeps - it was quite a shock to move to a country where sleep and siestas are revered. Countless times in the beginning, my husband and I set out to run errands only to find that we were arriving in the middle of siesta and everything was closed. Also, it's really true that everything here is mañana, so the slower pace of life took some getting used to, but that's one of the beauties of Spain. It really forces you to slow down and enjoy life.  
Q: What's the cost of living compared to home? What is cheap or expensive in particular? 
A: The rent is incredibly cheap compared to California or NYC. We have sea views and pay maybe a fourth of what we would pay in the US. The fruits and vegetables in the outdoor market are also cheap. The cost of gasoline is one of the more expensive aspects of living here - it's about four times the price - so it's extra nice that a car is not required to get around.
Q: How would you rate the public transport? What are the different options? Do you need to own a car?
A: Public transportation is pretty good especially compared to Southern California where it's difficult to nearly impossible to get around without a car. Here in Altea, there are buses, a tram that runs along the cost, and, about an hour away, there's a train. Owning a car is not necessary. Owning a scooter is perfect.  
Q: How would you rate the healthcare in your city? Have you had any particularly good/bad experiences with regards to doctors and hospitals?
A: Fortunately, I have not really been in need of healthcare while living here, so I'm not to familiar with the ins and outs of the system. I have visited the doctor a couple of times for simple things and have had long waits, but I presented my health card and didn't have to pay a dime, so that was nice. But I have heard that there are some very nice hospitals nearby.
Q: What are the biggest safety issues facing expats living in your host city or country? Are there any areas expats should avoid?
A: Unfortunately, there are quite a few pickpockets here, and, nearly every time that I have family members come to visit, they always lose something - a camera, a wallet, a kindle. The outdoor markets are prime areas for pickpockets. Also, even in Altea where it seems totally safe, I've heard quite a few accounts of houses being broken into.  The economic crisis in Spain doesn't help, and people are desperate.  
Q: How do you rate the standard of housing in the city? What different options are available for expats?
A:  The standard of housing is great. Beautiful houses with amazing views. But the houses are old and damp and require regular maintenance. It is fairly easy to find something – either through an agency or on your own by talking to the locals. 
Q: Any areas/suburbs you'd recommend for expats to live in?
A:  Altea is hands down my top recommendation. You can't find a more beautiful place. Plus, it has a microclimate, so we enjoy fantastic weather nearly year round.
Meeting people and making friends in Altea
Q: How tolerant are the locals of foreigners? Is there any obvious discrimination against particular religions or women?
A: The locals from Altea are great although they are a bit reserved and the older ones seem to resent and resist the change that is taking place as more foreigners "invade" the city. There are no obvious discriminations against particular religions or women. I think the only discrimination is directed at outsiders and that includes the Spaniards born outside of Altea. But it's minimal and not a problem. 
Q: Was it easy meeting people and making friends? How did you go about meeting new people?
A: I must say that owning a bar in Altea put us right into the middle of the social scene, and it's thanks to our business, AlteArte, that we are as integrated as we are. We have had the opportunity to meet so many amazing people. For those who are just moving here, Altea is small, so it's easy to meet people quickly, and there are a lot of groups geared toward outdoor activities, so, with a little bit of effort, you can meet a lot of people.
Q: Have you made friends with locals or do you mix mainly with other expats? What advice would you give to new expats looking to make friends? Any social/expat groups you can recommend?
A: Again, thanks to AlteArte, I have had the chance to get to know quite a lot of the locals. But, perhaps due to the language barrier or shared experiences, the majority of my friends are fellow expats. My advice is to just put yourself out there. Visit the local businesses, get information about events sponsored by the city, look up Facebook groups or expat-related sites. There are so many outlets to meet others.
About working in Spain
Q: Did you have a problem getting a visa or work permit? Did you tackle the visa process yourself or did you enlist the services of an immigration consultant?
A:  It greatly helped that I am married to a Spaniard, so even though the process took time, was a bit tedious, and required long waits in long lines, it was fairly straightforward, and I was able to get my five year residency card in less than a year. We tackled the process ourselves, but my husband was a huge help in making sense of all the forms that we had to fill out and the steps that we had to take. 
Q: What's the economic climate like in the city? Do you have any tips for expats looking to find a job there? Which resources did you find most useful?
A: The economic climate is very difficult. During the summer and especially high season - July and August - all the businesses hire extra help, but it's very difficult to find year round work. My biggest piece of advice if you're moving to Spain is to try to figure out a way that you can make money online. Spain is a beautiful place to live but a difficult place to make money. Otherwise, because there are so many expats living here, a business geared towards that market could be useful and in demand.
Q: How does the work culture differ from home? Do you have any tips for expats doing business in the city/country?
A:  At home, work is extremely important and can, at times, be even more important than family. It's quite the opposite here. Things move slowly, work hours are respected, and it can be frustrating if you want something done quickly. If an expat shows the desire to work hard, go the extra mile, and be committed to the job, that can be seen as a huge asset. 
Family and children in Altea
Q: Did your spouse or partner have problems adjusting to their new home? Do you think there are any specific challenges for a trailing spouse?
A: I was the one who was trailing and the one who needed to adjust the most, but my husband helped a lot in being patient with me and trying to help me adjust. I think that it can be equally hard on both parties and patience and trust is essential. 
And finally…
Q: Is there any other advice you would like to offer new expat arrivals?
A:  Be open for anything and everything! Moving abroad is truly an adventure, and even the cons can make for good laughs and amusing memories later. Try to not have any particular expectations so that you can fully absorb what your new country and your new surroundings have to offer. And try to put yourself out there even if it requires moving out of your comfort zone, for that's when the most personal growth happens, which, in the end, is what will be most rewarding.

~Interviewed May 2014