Aubree Keys moved from Denver, Colorado to Australia in April 2011.  She and her husband will be living in the Melbourne area for a few years, and you can read about their adventures on their blog, Keys Down Under.
About Aubree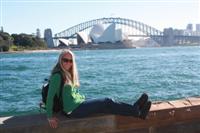 Q: Where are you originally from?
A: I grew up in Michigan, but we moved from Denver, Colorado.
Q: Where are you living now?
A: I live outside of Melbourne, Victoria in a suburb called St Kilda.
Q: How long you have you lived in Melbourne?
A: We moved to Melbourne at the end of April 2011.
Q: Did you move to Australia with a spouse/children?
A: I moved here with my husband.
Q: Why did you move; what do you do?
A: I was a teacher in the United States, but we moved here with my husband's job. He's a manager with an IT consulting firm.
About living in Melbourne
Q: What do you enjoy most about Melbourne, how's the quality of life?
A: I enjoy the wide variety of things you can do and experience in the Melbourne area: sporting events, festivals, beaches, restaurants, music, and more. The quality of life is awesome; Melbourne recently was awarded "Most Liveable City."
Q: Any negatives? What do you miss most about home?
A: Sometimes the expensive prices bother me. I miss my dog; we left her with my brother back in the States because people told us it was very difficult to deal with the quarantine process and finding housing with a pet.
Q: Is Melbourne safe?
A: I think so. St Kilda has a reputation for some seedy folks, but I'm not out in the dark alleys late at night, so I've never felt like I was in danger.
Q: Describe an ideal way to spend a weekend in Melbourne?
A: On Friday night, we'd meet up with some friends for drinks and maybe catch some live music or a show. We'd drive down to the ocean for some surfing on Saturday morning and come back to watch some footy that evening or go out for dinner. On Sunday, we may go for a run or a bike ride along the bay, enjoy a leisurely brunch on the waterfront, and then spend the afternoon reading some books and relaxing on the beach before a BBQ dinner at home.
About living in Australia
Q: Which are the best places/suburbs to live in Melbourne as an expat?
A: I think St Kilda is awesome, because it's right on the water and has some "happening" streets like Acland Street and Fitzroy Street. Port Melbourne or South Melbourne seem like cool places too. We originally thought we'd like to live in the CBD, but now I'm glad we don't.
Q: What's the cost of living in Australia compared to home? What is cheap or expensive in particular?
A: The cost of living is much more expensive than in the United States. Food and drinks are pricey; you'll spend twice as much when you go out. Housing prices are out of control. We pay the same per month on a one-bedroom apartment that we did for our monthly mortgage payment on a three-bedroom house in the States. My husband did get a salary increase when he came here, so that helps a bit. We also don't have a car here, so we don't have car payments, insurance costs, etc.  
Q: What are the locals like; do you mix mainly with other expats?
A: Australians are a friendly bunch, but we tend to mainly hang out with other expats. I think Australians already have their own friends and social groups, whereas other expats are looking to meet new people.
Q: Was it easy meeting people and making friends in Australia?
A: You have to work at it a bit, but there are ways. Meetup.com is a great resource for finding groups of people with similar interests.  Sometimes we've ended up meeting Aussies just by striking up a conversation with people at a bar.
About working in Australia
Q: Did you have a problem getting a work visa/permit?
A: We were lucky in that my husband's employer sponsored and helped him obtain our visas. The whole process took about three months.
Q: What's the economic climate like in the city, is there plenty of work?
A: I get the feeling that you can get a job pretty easily if desired.
Q: How does the work culture differ from home?
A:  According to my husband, the planning phases of projects at work are definitely less organized, and deadlines don't seem to mean as much. We were surprised at the long hours that he works, and he's not the only one.
Q: Did a relocation company help you with your move to Melbourne?
A: We had a relocation allowance from my husband's company. We chose to use it for our flights, bringing boxes on the plane, temporary housing, and rental cars. We didn't do an overseas shipment; we stored our things with family back in the States.
Family and children
Q: Did your spouse or partner have problems adjusting to their new home?
A: My husband went through a short period where he was disenchanted with Australia, but overall, we've both enjoyed the transition and handled it well. I think Christmas will be difficult, as we will not be travelling home.
Q: How would you rate the healthcare?
A: On our visa, we have to hold private health insurance. We haven't made use of it yet, but the cost isn't too outrageous.
And finally…
Q: Is there any other advice you like to offer new expat arrivals?
A: Lots of potentially useful information can be found on my blog. Feel free to contact me through that with any questions!
► Interviewed October 2011