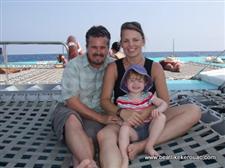 Marcus left life in the States to return to his rural roots in Victoria, Australia with wife and toddler in tow. Though repatriation after over a decade abroad can be difficult, past connections and Oz's strong state amenities (healthcare and schools) has put a positive spin on his homecoming. Read what he has to say about life in country Australia.  
About Marcuss
Q: Where are you originally from? 
A: I hail from country Australia and my wife is pure East-Tennessee, Smoky Mountain folk.
Q: Where are you living now
A: We currently live in North-Eastern Victoria in Wangaratta.
Q: How long you have you lived here? 
A: Three months at the moment.
Q: Did you move with a spouse/children? 
A: Wife and daughter (2 ½ year old).
Q: Why did you move; what do you do? 
A: We moved home (after 16 years overseas) to be closer to family. We wanted our daughter to grow up amongst her cousins, aunts, uncles and extended family.
About Victoria, Australia
Q: What do you enjoy most about Victoria, how's the quality of life in Australia? 
A: North-Eastern Victoria has everything: it has culture, a performing arts centre, a jazz festival, a cafe culture and it's considered a gourmet food region. It also claims outdoor pursuits: bike trails, hiking, snow and water skiing, canoeing, kayaking, fishing; not to mention, it checks all the other boxes - regional Services, shopping, theatre and agencies.
Q: Any negatives? What do you miss most about home? 
A: My wife misses the food, distinct seasons and cheap consumer items.
Q: Is Victoria safe?
A: Very safe.
About living in Victoria
Q: Which are the best places/suburbs to live in the city as an expat?
A: Anywhere in Wangaratta is fine.
Q: How do you rate the standard of accommodation?
A: Very high.
Q: What's the cost of living in Victoria compared to home? What is cheap or expensive in particular?
A: It is much cheaper compared to the city. House/apartment rent is easily double in Melbourne, while employment salaries are not appreciably less than in urban areas.
Q: What are the locals like; do you mix mainly with other expats?
A: No, there are not many expats in Wangaratta (at last census count something around 35 Americans and only a smattering of other nationalities), so we circulated with other Australians.
Q: Was it easy meeting people and making friends?
A: Very easy, my family was from this area and I was still on contact with old school friends. My wife's job has led to many new friends as she is active out in the community.
About working in Victoria
Q: Did you have a problem getting a work visa/permit?
A: Nope, as my wife was married to an Australian citizen. I understand that it is difficult to obtain one if not married to a citizen, sponsored by a company or considered a refugee.
Q: What's the economic climate like in Victoria, is there plenty of work?
A: We had no trouble finding good jobs, Australia seems to have largely bypassed the global recession thanks to China and the mining sector.
Q: How does the work culture differ from home?
A: Work/life balance is respected more here in Australia...and particularly in the country!
Family and children
Q: Did your spouse or partner have problems adjusting to their new home?
A: Not as yet; although, Christmas was a homesick time for my wife.
Q: Did your children settle in easily?
A: Children are adaptable and it was no problem. The most difficult adjustment was when we both went back to work after such an extended period constantly with our daughter, she missed us tremendously.
Q: What are the schools in Australia like, any particular suggestions?
A: Public schools in country Australia are fantastic. 
Q: How would you rate the healthcare in Australia?
A: First class state-funded health care ensures that everyone is covered. Extra private healthcare is optional, but not essential. After coming from America where over 40 million people are without health care this was wonderful.
And finally…
Q: Is there any other advice you like to offer new expat arrivals?
A: Get out, meet people and immerse yourself in this "lucky country".  Australians are sophisticated, cultured and used to the good life. It is not uncommon to see a sunburnt farmer sitting in a dusty blue work shirt holding the latest vintage from a local winery up to the sun in the afternoon and saying something like, "that's a real nice drop... good character with a hint of berries."
► Interviewed January 2012