Pia is a Canadian expat who moved to Sweden in 2011 with her husband when he was offered a job there. They live in the rural area of Kungsbacka, not far from the southwestern city of Gothenburg. Although the area they live in is quite isolated, it reminds them a lot of Canada and they find it very peaceful in Kungsbacka.

Read more about Sweden in our Expat Arrivals Sweden guide or more expat experiences in Sweden.
About Pia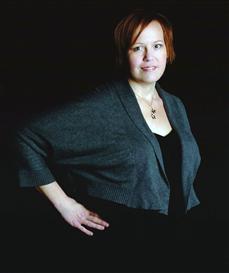 Q: Where are you originally from? 
A: Canada – Specifically Calgary, Alberta.
Q: Where are you living now? 
A: Kungsbacka – about 30 minutes from Gothenburg. The whole area reminds us a lot of Canada.
Q: When did you move to Sweden? 
A: December 2011.
Q: Did you move with a spouse/children? 
A: My husband and two cats.
Q: Why did you move; what do you do? 
A: My husband got a job here so we made the move together.
About Sweden
Q: What do you enjoy most about your host city, how's the quality of life? 
A: We live in farm land and don't see the city much. In general it is peaceful here! 
Q: Any negatives? What do you miss most about home? 
A: Grocery shopping. The variety of foods available in Calgary are far greater than here. We are foodies and I love to cook so it is frustrating to not have access to all of the food items we would like. Also we have found that a lot of the grocery stores have issues with vegetables and quality of produce. I have thrown away so many rotten onions just a day after getting them home from the store.
Q: Is Kungbacka safe? Are there any areas expats should avoid?
A: I think this area is fairly safe but there are crazy people everywhere so I would never let my guard down.
Q: How would you rate the public transport in Sweden? What are the different options? Do you need to own a car? 
A: We are quite lucky to live near a train station and in general transit in Sweden far surpasses the public transit in Calgary. I love the train service, buses and the Vasttraffik iPhone app!
Q: How would you rate the healthcare in Sweden?
A: Compared to Alberta, it is similar. It is frustrating that in general, spouses don't qualify for employee health care like dental and optical automatically. Most companies in Alberta would provide health coverage for the whole family. I did spend several weeks in the hospital when I was pregnant and the medical care in Gothenburg was excellent. The language and cultural differences were frustrating but the medical knowledge was outstanding. 
About living in Sweden
Q: Which are the best places/suburbs to live in as an expat?
A: In my area, it comes down to what you want to pay. Kungsbacka, Lindome and the other nearby areas are quiet and spread out. We rent so we can't compare our experience to that of a home owner but I was thrilled with the size of housing here.  
Q: What's the cost of living compared to home? What is cheap or expensive in particular?
A: We find it very expensive here. Food in the grocery stores and eating in restaurants is really pricey. Heating and electrical are both expensive but we live in a large house so that could be partly to blame. Obviously costs for childcare (preschool) and medical are better than Canada.
Q: What are the locals like; do you mix mainly with other expats?
A:  We mainly know expats that we met through SFI language classes. The only Swedes we know are the people we rent from and a few neighbours. They are nice but come across much more serious and less laid back than in Canada.
Q: Was it easy meeting people and making friends in Sweden?
A: Not at all but we are slightly isolated in farmland so there are fewer people to meet.
About working in Sweden
Q: Did you have a problem getting a work visa/permit for Sweden?
A: No problem getting a permit since my husband is working here and he is also British citizen. 
Q: What's the economic climate like in Sweden, is there plenty of work?
A: I haven't found a job yet. I was a technical writer back home but became pregnant as soon as I moved here and now am on maternity leave so I haven't had the opportunity. I am hoping I can find work in my field without knowing Swedish.
Q: How does the work culture differ from home?
A: The "everyone is equal" culture is going to drive me nuts. I am used to pushing myself to excel so I can see that being hard to adjust to. 
And finally…
Q: Is there any other advice you would like to offer new expat arrivals?
A: Don't stress about learning the language too quickly as things come easier when you have had a bit of time to get familiar with basic things.

– Interviewed March 2013